Interested in model car and model ship building.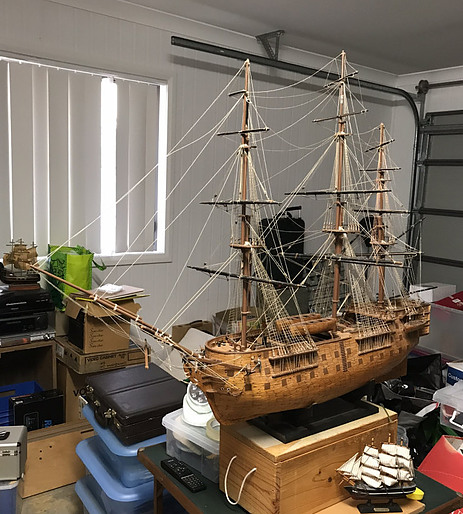 My name is Charles.
I have been interested in Model building for most of my life.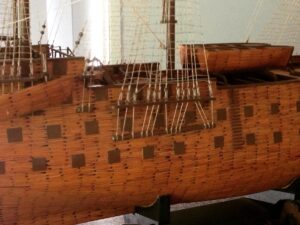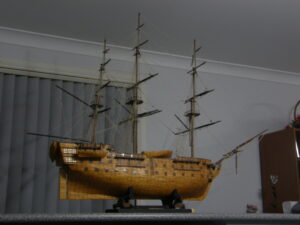 My DIY modelling history.
This is a model of a Ship called "The Black Prince" 1813, The main body is Made of Matches. I haven't counted them. Built approximately 1978, Built By a friend the late Ted Cornelison. From Orange in the Central West of NSW. Australia. Height of ship 110 cm, Length 150 cm. This is an example of what can be accomplished with a set of plans and plenty of
matches.
This matchstick model's history.
The first time I saw the models that Ted had built, it boosted my curiosity and really rejuvenated my past interest in model building.
This model has an interesting history as Ted the builder sold it to my brother in 1980. At that time my younger brother had a reasonable place to put it. By 1983 he decided to do some travelling up the Australian east coast.
The trouble was that he had a 22-seater Toyota Coaster set up as a camper. A wife and seven children. He and the family travelled the coast together. He had no room for the boat so I made arrangements with him that I would buy it off him. I didn't" have much cash at the time so I swapped a camera for the boat which Bro accepted because he wanted a camera to take on the trip with them anyway.
After buying the ship I had it displayed on the top of our Piano just inside the front door of our home. When we had visitors we would open the door for them and the first thing they saw was this amazing matchstick ship on the piano about 20 feet in front of them.
Model Car kits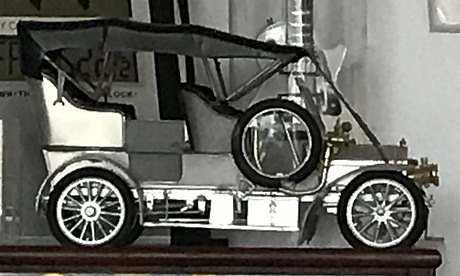 Plastic Kit. I put together in 1978.
This is a model of the Rolls Royce Silver Ghost plastic Kit which I put together in about 1978.
It's very easy to buy a model car or ship pre-built from a store and enjoy looking at the complete product in a display. Yet being the one who actually put all the parts together to create the finished product can be exiting and satisfying in itself. knowing that you were the one who put in the effort. Like building or restoring an old car, maybe the first car you ever owned.
My great memories.
I can remember in my young days putting together model car and boat kits, some plastic, some metal and the occasional wooden build. My most satisfying models were vintage cars with the occasional sailing ship like "The Bounty" and "The Endeavor". Both originals I put together in the mid to late sixties were made of plastic.
In 2002, I bought a large timber sailing ship model kit of "The Bounty". It came with a number of small parts each week. I started putting it together and after about six hours I put it away and never brought it out again until 2020.
The unexpected.
We all know that Covid hit us in early 2020 and at the same time I had a heart attack and a triple bypass, by the time I got out of hospital we were having lock downs. It was time to bring out the Bounty kit again and after nearly three months I had it finished. It's great looking at the finished ship and knowing that it was my efforts were the reason that it is here and finished.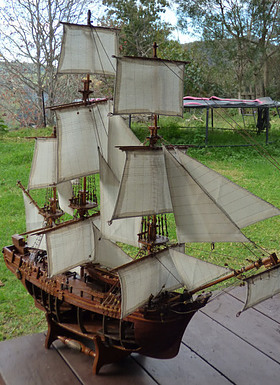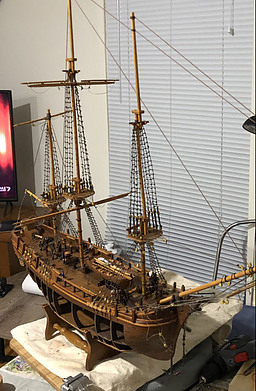 "The Bounty".
This is "The Bounty" Kit that for 18 years was all but a box in my storage. It amazes me that now it is here in front of me near complete for me because there are a few things that I could still do to improve it. I could add a few extra crew members. or even put some very sedate lighting inside and out.