Hi, My name is Chaz.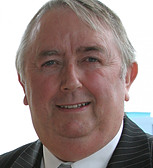 I live in New South Wales, "Australia" I am 71 years old
I was a professional driver all my working life, I first got behind the wheel of a car and farm tractor at the age of 6 driving on our family farm.
At the age of 9 my father bought me my first car for 10 pounds which was a 1929 Chevrolet soft top with timber spoke wheels. It was originally Beige and when my father bought it the car had faded to a light pink color, He bought it for me so I could drive to the farm entrance gate to meet the school taxi every day. I would have my younger brother and sister with me.
The taxi was a Valiant Station wagon which by the time it had picked up all the children on the run it would be well overloaded with sometimes more than six children in the rear compartment and many times with a child sitting on the floor in the front passenger foot well. This changed in 1962 when a bus was used from then on. I can remember being in the front foot well of the taxi myself on occasion.
The Taxi driver said to my mother years later than every time he saw my car coming he could never see the driver till I stopped and got out. Professional Driving was my working life until I retired on medical grounds in 2007. My wife and I were married in 1980 in Cowra in the central west of NSW, We lived in Orange for the first 8 years, we had 1 daughter while in Orange. My wife was a medical receptionist and I ran the local Driving School which I started in May 1979, and sold the business in August 1988 just before we moved to Port Macquarie.
We lived in Port Macquarie on the NSW central coast for 28 years till 2016 when we decided to move further south to be closer to our daughter and her family. They could never get up to visit and we wanted to get to see them more often. Through old friends we found out about House sitting, one of our friends had been house sitting for the past 10 years, our friend said she had a sit in the north-eastern suburbs of Sydney which she could not do and would we be interested in doing it for her if the owners agreed and we could see if we liked it. They agreed and we did the sit.
We enjoyed doing it. Now it is nearly 6 years & 6 months since we started and we are at our 91st house sit. We look after pets in their own home environment so the owners can go away on holidays knowing than their animals have still got their normal routines, Many pets do not handle being taken out of their home environment. And some owners have not taken holidays in years until they found house sitters to care for their pets at home. I have looked at affiliate marketing in the past but now am very keen to see the fruits of my work with WA.
The is a great opportunity for those who are regularly on the move like we are. Traveling or regularly moving around is not an obstacle with this opportunity, the reality is are you one of those who are prepared to step out and make things happen for you.